CAMERA IP DOME INTERIEURE WV-SFR311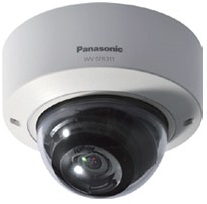 20p HD images up to 60 fps*1

Approximate 1/3 inches, high sensitivity MOS Sensor

Super high resolution at HD/1,280 x 720 created by high sensitivity MOS Sensor.

Multiple H.264 (High profile) streams (max. 4 streams) and JPEG streams ensure simultaneous real time monitoring and high resolution recording by new enhanced "UniPhier®", Panasonic's proprietary System LSI platform.

Enhanced Super Dynamic*1 and ABS (Adaptive Black Stretch) technologies deliver 133 dB wider dynamic range compared to conventional cameras.

Multi process NR & 3D-DNR ensures noise reduction in various conditions.

High sensitivity with Day & Night (IR) function:

0.01 lx (Color), 0.003 lx (B/W) at F1.6

New camera attachment bracket allows an easy camera installation toward all four directions.

ABF (Auto Back Focus) ensures easy installation.

VIQS (Variable Image Quality on Specified area) technology allows the designated eight areas to retain higher image quality while the excluded area will have a decreased image quality, which enables to use lower image file size and bit rate.

Face Super Dynamic technology ensures clear face image.

Selectable light control modes:

Outdoor scene,Indoor scene (50 Hz) / Indoor scene (60 Hz), Fix shutter

Indoor scene (50 Hz/60Hz):

Flicker caused by fluorescent lightning will be automatically compensated.

Fog compensation function equipped as standard.

Super Chroma Compensation function realizes a better color reproducibility even in low illumination.